Gen Y's tryst with Cyber Crime
Millennials in today's time are the most educated, confident, ambitious, and public-spirited. The dynamic generation is also widely connected with immense potential to bring about great changes in society. Simultaneously, this cohort of youngsters is over ambitious and slave to a luxurious lifestyle, not hesitant to adopt unethical ways to satiate their avarice. Nevertheless, the lure of quick bucks many a time drags these youngsters into a life unimaginable and undesirable.
A peep into the world of Cyber Crime
Ambitions or Adversity!
Club 69 (କ୍ଲବ୍- 69), the recently streamed AAO NXT Original Odia Web-series tells a story on digital fraud, hacking, cybercrime filled with suspense and thrill. Where some young and educated Computer techies have come together to make huge money by looting innocent people digitally. Newer concept, original story-line, and a thousand VFX shots have made it gripping over viewers across all ages. Every coin has two sides and every rise has a fall too. The series also brings into light the predicament of such spiteful people, whose life took for the worse for their insatiable greed. It's easy to relate these characters to a contemporary scenario and an engrossing storyline, weaved around the dark world of 'Cyber Crime', the web series sends across a strong message of how ordinary people get entangled in crime just for some easy money.
Captivating Story
Run For Money: Cybercrime is a great concern in today's time, targeting every strata of society. The web series traces the journey of three young talented techies Maxi (Abhishek Giri ), Hina (Samita Mandal), and Avantika (Sonam Dash) who chose the path of cybercrime to lead a life of luxury for different reasons altogether. Their addiction to money compels them to commit a string of offenses to the point of no return. The talent of these techies goes wasted as they found themselves battling emotional trauma, personal values, and love life. Where the other key characters of the story seem to have some unsettled accounts too. The series unfolds several facets of the relationship, the underlying desire of the common man to have riches, and the complex challenges faced by Police.
The thrilling web series, released on March 12, is produced by Kaushik Das, co-produced by Dragline Creatives, Directed by Pradip Dash and Script Writer is Jitendriya Pradhan. The star cast includes Pinky Pradhan, Shruti Shubhashree, Amrita Mishra, Sonam Dash, Samita Mandal, Ashwin Ray Mahapatra, Abhishek Giri, and Shubransu Nayak.
AAO NXT – First Independent Homegrown ODIA OTT Platform
Club 69 (କ୍ଲବ୍- 69) Web Series is the brain child of Kaustav Dreamworks and Dragline Creatives, streaming on AAO NXT, Odisha's first independent Audio Visual streaming App/OTT (Over-The-Top). AAO NXT has a gamut of excellent content from diverse genre, like AAO Originals, Odia Classics, Symphony of South and National and International languages. It aims to reach people desirous of watching quality web series, feature films and documentaries in their mother tongue.
OTT platforms have carved a niche for themselves worldwide by ruling the media and entertainment industry. It got a boost during the COVID-19 pandemic when theatres got shut, resulting in its trajectory growth. In India, the 1st dependent OTT platform was launched in 2008 and the 1st mobile OTT app was launched in 2010. OTT is a great platform that gives access to diverse content and introduces new genres at fingertips.
AAO NXT aims to bring about a paradigm shift in the Odia cinema and unique web series with enriching original content and meticulous presentation. It believes in providing unique content, inspired by real-life incidences and situations with a strong underlying message for the welfare of society. It also encourages fresh talents to explore their creative potential.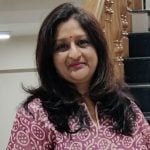 Suneeta Mohanty is a Content Writer with more than 23 years of experience. Her strength is original content with a personal touch. She writes well-researched articles and blogs.