Today, we live in a fast-paced, technology driven world, with technology giving us an immense opportunity to make our life easier and faster. Its limitless boundaries compliment our endearing desire to know the unknown, challenge the unchallenged and delve deeper to unravel the mysteries. As one way leads to another, each little technological invention gives way to push our search further and explore the wide spectrum of possibilities. Today we have a storehouse of information at our finger tip, access to more information than anyone else in the history of mankind. Artificial Intelligence (AI), Cloud Computing or Internet of Things (IoT) have become common lingos across the world.
Simultaneously technological advancements have opened up myriad opportunities for crooks, giving rise to innumerable fraudsters with exceptional knowledge of cyber space, to commit computer-focused crimes.
"New technology is not good or evil in and of itself. It's all about how people choose to use it." – David Wong
Technological advancements have become a necessity in today's time. It has an immense impact on how individuals learn, think and communicate. Internet access and uninterrupted flow of information is the mainstay for the world to thrive. From business operations, to education, health system or maintaining emotional stability through constant communication, we rely on technology. It becomes a nightmare for the younger generation to stay without internet even for an hour. People become restless when the cell phone loses signal.
As Bill Gates said, "The advance of technology is based on making it fit in so that you don't really even notice it, so it's part of everyday life." Government and private organizations world over are spending huge resources on technological innovations to create a more efficient and cost effective future.
In tandem, a part of the population chooses to harness these emerging technologies to earn their wealth by cheating people and organizations. Some of these crimes include cyber stalking, criminal threats, Internet auction fraud, online gambling, phishing, threatening or annoying electronic mail, fraudulent credit card transactions, distribution of child pornography, fraudulent application for goods or services or identity theft.
"As cybersecurity leaders, we have to create our message of influence because security is a culture and you need the business to take place and be part of that security culture." – Britney Hommertzheim
Cybercrimes have increased manifold in recent years, making each one of us susceptible to the risk. Since the 1st case of hacking reported in 1979 to the year 2021, the severity of cases has changed in several dimensions. From attacking individuals, the cyber criminals can bring an institution down.
In India the 1st case of cyber crime was reported in 1999, where Akash Arora was accused of using the trademark name yahooindia.com. In 2020, 1.16 million cyber security cases were reported. Today India has the 2nd largest internet population of the world, indicating great progress, wide connectivity and equally huge vulnerability in digital space. Government data showcases a 3-fold increase in cybercrime in 2020. As per Business Standard 'the numbers in India went from 1.3 million in February 2020 to 3.3 million in March 2020. From April 2020 onward, monthly attacks never dipped below 300 million, and they reached a new high of 409 million attacks worldwide in November 2020. In July 2020, India recorded its highest number of attacks at 4.5 million. In February 2021 there were 377.5 million brute-force attacks, a far cry from the 93.1 million witnessed at the beginning of 2020. India alone witnessed 9.04 million attacks in February 2021. The total number of attacks recorded in India during Jan & Feb 2021 was around 15 million'.
Earlier this year, the cyber attack on Air India shook the nation, when the personal data and confidential information of 4.5 million airline customers was hacked. This includes passport details, ticket information and credit card details of people travelling during August 2011 and February 2021.
In March 2021, a ransomware attack on Pimpri-Chinchwad Municipal Corporation, managed by Tech Mahindra affected 25 servers of the project. Although no data loss was reported, yet Rs 5 crore is estimated to rebuild server infrastructure and shore up security standards.
Odisha – A surge in Cybercrime
Odisha has witnessed an extraordinary rise in cyber cases in the last couple of years. In the last three months, people of the capital city of Bhubaneswar were cheated of Rs 74 lakh in April, Rs 70.78 lakh in May and Rs 83 lakh in June. In the last six months, online swindles to the tune of around Rs 6 crore have been reported in the Twin City of Cuttack and Bhubaneswar.
In June 2021 Odisha police busted an alleged cybercrime syndicate at Cuttack, arresting 7 people. 16,000 SIM cards and 150 mobile phones were recovered from their possession. According to Commissioner of Police, Bhubaneswar-Cuttack, S K Priyadarsi, the gang was creating pre-activated SIMs and sending them outside the state in exchange for money. A SIM card is activated on submission of identity documents to the service provider. Cyber criminals prefer pre-activated SIM cards to maintain their anonymity. In recent years the demand for such SIM cards is on rise.
To make matters worse, to extort money from people cyber criminals are found to open facebook accounts in the name of two senior IPS Officers, Police Commissioner Sudhanshu Sarangi and DIG (Investigation), Anup Sahoo. Subsequently people were warned of the fake ID through a press statement.
To curb the rising cases, the State Police Headquarter has directed the department to incorporate the concept of golden hour while probing cyber crimes. Cops were asked to effectively utilize the crucial golden hour, the time between occurrence of the crime and response after registration of the cases.
As per the police most of the cases were related to transactions through net banking, debit/credit cards and UPI payments. Police departments, philanthropic organizations and media have been creating a lot of social awareness messages on the dos and don'ts of social media uses as well as requesting people not to share any OTP or crucial information.
The users have been advised to –
Go through the privacy policies before opening any facebook account
Refrain from opening multiple fb accounts from a single identity
Not to accept friend request of unknown people
Log out/sign out your account properly every time you open it for personal use
Not to click on unknown link, as it may steal personal data
Be alert while opening account in free wi-fi zone, as there is possibility of password or user ID
Do not transact personal banking through online mode in a free WiFi zone.
"Security in IT is like locking your house or car – it doesn't stop the bad guys, but if it's good enough they may move on to an easier target". – Paul Herbka
Watch
Club 69
at
AAO NXT
to know more on the world of cyber criminals.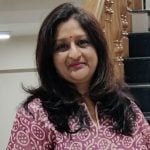 Suneeta Mohanty is a Content Writer with more than 23 years of experience. Her strength is original content with a personal touch. She writes well-researched articles and blogs.