Rave reviews keep pouring in for 'Club 69', the much-loved AAO NXT original web series being streamed in the OTT platform since March 12, 2021. The crime thriller, the 1st of its kind in Odisha, has indeed won people's hearts with its brilliant presentation. As the series keeps basking in its own glory, let's take a peek into the making of Club 69.
Cyber fraud, cyber terrorism, cyber extortion, cyber-sex trafficking, cyber warfare, or even cyberstalking and cyberbullying have become common words in today's world. Many of us must have been victims of cyber-crime and many more have been badly affected by it. Crores of currency are being swindled in a moment's time and the culprits remain untraced.
The Script
One such unfortunate incident deeply moved writer Jeetendriya Pradhan that stirred in him a desire to create awareness on cybercrime. A lengthy discussion with Kaushik Das, CEO, AAO NXT set the tone. It took him a year and a half of in-depth research, jotting down information from piles of newspapers, TV news, documentaries, discussing with victims to finally transforming it into a manuscript. It was followed by rounds of discussions orbiting from making it a short film to big screen movie to documentary. Creative Head, AAO NXT, Ranajit Mohanty said "The script finalization stage gave us some sleepless nights, our creative ideas clashing on with one another. We finally zeroed it on a WEB SERIES." Director Pradip Dash echoed "It was a great challenge to portray such a huge issue into a convincing visual form". The manuscript went through 5 rounds of redrafting over a period of around 4 months, incorporating the right technological nitty-gritty to finally lock the script. "Thanks to the AAO NXT team who supported in making this script", said Pradhan. Reminiscing the time Kaushik Das said, 'It became a script with a captivating storyline, full of thrill and suspense, relevant and informative. I knew it would strike the right chord with the audience and create the desired awareness on cybercrime'.
The Actors
The contemporary and new storyline required a balanced blend of fresh and known faces. It became a real challenge to finalize the cast matching with the characters that were so much etched in the makers' minds. Director Pradip Das reminisced, "we needed actors who could connect with the issue, as well as creative and spontaneous." Screen tests were held with no compromise on acting, interviews conducted to understand their take on the issue and finally the cast was set. Das added, "during the audition, Sonam who played Heena looked completely different after the make-up and it was so convincing that we changed our original idea about the character look".
It followed an acting workshop, molding the cast into their respective characters. Costumes were finalized keeping in mind the present time and target audience. From jackets to shoes to jeans and even watches were meticulously taken care of. Finally, Maxi, Heena, Avantika, Ashwin, Liza, Prateek came to life! Well, the eunuchs and the truck driver just played their real-life roles, and yes with perfection! One of the eunuchs in an interview said, 'when we were approached to play our own part in the series, we were excited, but we became more excited when we learned about the reason for making the series. Everyone needs to know about cybercrime."
The Shots
'No, the script can't go to waste, we need to bring in the best of technology', declared Kaushik Das, when the time came to shoot the series. The best of technicians and technology was roped in. Each shot was minutely discussed. It was the collaborative passion for perfection that made Club 69 the 1st Odia web series to have over 900 VFX shots. A great leap from the initially planned 300 shots! It was a real sight to watch a 70-member team shifting equipment and setting shots, thrice a day, every day for a fortnight, in 50 different locations. Prabir, one of the technicians said, "we were just working in a timeless zone. We were also learning more and more about cyber-crime, discussing and googling for more information. I felt there is so much for us to know to protect ourselves from the internet thieves".
Some scenes were re-shot to ensure perfection. A couple of scenes were impromptu. Three C.G scenes were improvised and written on WhatsApp before being shot. Once during a sudden change in schedule, the team pulled in a 24-hour schedule. On the final day of the shooting as the Director said, 'It's a wrap', the news channels were buzzing with the 1st lockdown announcement.
The Final Edit
Editing the series using 992 VFX shots was a herculean task. However, the competent in-house team gave their best effort to make it a possibility, after rounds of edits. 'Thanks to Ranajit Mohanty, whose vast knowledge on VFX and technology made it a success", said Director Dash. Promos were created, re-created, and shelved. At last, a digital painting promo won everyone's heart and was handed over to the digital marketing team. Music pieces were carefully created in Mumbai aligning with the technological background of the movie.
Finally, the idea to create awareness of cybercrime through entertainment got transformed into a 6-episode amazing web series. The man behind the success of Club 69 is Kaushik Das whose inspiration, drive, and foresight made it a success.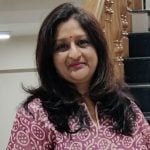 Suneeta Mohanty is a Content Writer with more than 23 years of experience. Her strength is original content with a personal touch. She writes well-researched articles and blogs.