The passion for acting bonded these actors as they came together to shoot one of the first of its kind web series in Odia, Club 69 that etched a coveted place in the heart and mind of the viewers. Released in March this year, Club 69 has become a wonderful medium to spread awareness of cyber-crime through entertainment. The brilliantly made web series by AAO NXT has ushered in a new beginning in the Odia OTT platform. Simultaneously it re-energized the star cast for a unique script, excellent portrayal of characters, creative freedom and the list continues.
A snippet to showcase the enthusiasm of the actors who share their learning journey during the making of Club 69.
Liza – Writer's Facade
Pinky Pradhan credits AAO NXT for her magical OTT debut through Club 69. It is also for the 1st time she played a negative character, the centre point shrouded in mystery. Pinky said, 'I had worked with the Director, Pradeep Bhai before and that was a comfort zone where I could portray my negative role in a better way'. Adding to it, she loved the young actors who were full of energy and positivity. Pinky Says, "I have an emotional attachment for AAO NXT as I get a lot of positive vibes there. They are quality oriented, choosy and focused and that makes a great production house". Kaushik Das, CEO AAO NXT said, "Pinky Pradhan was the unanimous choice as Liza. She has an intelligent face and the word 'writer' is reflected on it and of course, she is an amazing actor". Pinky has done her Masters in Journalism and Mass Communications and also has a degree in LAW. Acting came naturally to her and she has been into it since an early age. She is also an amazing singer and model.
Maxy – The Prime Fraudster
As the discussion for casting was on, in walked a man through the gate of AAO NXT office for the screen test. The tall lean frame, careless gait, spontaneity, talking eyes and a subtle switch from being rough to soft, caught the Director Pardeep Dash's eye. Abhishek became Maxy for him, the mastermind behind the crime. Dash recalls, "The moment my eyes fell on him, I knew he was the man I was looking for".
Acting has always been his first love and B.Tech was something he did for his parents. He is a great photographer, even winning a National-level contest, a pencil artist, who loves making portraits and a flute player, playing to soothe his tired nerves. Abhishek said, 'Maxy was very different from the real me, I can never think of cheating someone, yet the character taught me a lot'. He added "AAO NXT played a crucial role in building my career and I must say we had a wonderful director with whom I had developed a trust factor that inspired me to put up limitless effort to give a unique structure to the character, Maxy." He also appreciated the creative freedom given to the actors to have their say to make the web series more peppy and attractive. Had he been a female, the one role he would have loved to play in Club 69 was Suzanne, the cop.
Ashwin – The tough DCP
Like everyone else, Ashwin too receives fraud calls, he listens carefully and at the end asks them to subscribe to AAO NXT and watch Club 69 and then call me. Ashwin shared, "I had heard about cyber crime, read about it but while shooting for the web series I realized how dangerous it can be and how each one of us is vulnerable to it. It was real learning for me and we need to spread the message across all segments of people".
Full of fun, the food loving Ashwin is also a fitness enthusiast and his stern looks come from his training as a boxer. Ranajit Mohanty, Creative Head AAO NXT recalls "We wanted a big star for playing the role of DCP, someone who would be convincing, but when we saw this new boy Ashwin, we could not think about anyone else, his body language perfectly gelled with the character".
During the discussion Ashwin shared that once during the shooting of Club 69, the young gang in their costume was out to get some street food when they met a biker and a pillion rider riding on a pavement without helmet. The DCP character in Ashwin suddenly emerged and he immediately stopped them. It was a great sight to watch the two apologizing as Ashwin checked their licenses with all confidence. He also lectured them on road rules and its importance.
Suzzaine – The mesmerizing Cop
Director Pradeep Dash recalls, "Amrita's intellectual look and confidence landed her the role of the cop, Suzanne". The beautiful girl from Cuttack loved to play the challenging role of the cop with varying shades, giving her a wonderful scope to show her talents as an actor. Amrita shared that, "I enjoyed acting in Club 69 as much as all my co-actors, for the comfortable ambience and excellent director who brought out the best in us". A graduate in Political Science from Ravenshaw University, Amrita's love for acting developed from her career in modeling. She is a real foodie who loves chicken the most but keeps herself fit through yoga or flexibility training. Amrita recalls the time of the shooting of Club 69, when the young gang kept ordering food all the time, and pulling legs of the tech crews and spot boys. She also remembers Sonam and her never ending chatter.
Club 69 presently streaming in AAO NXT traces the journey of three young talented techies) who chose the path of cyber crime to help them lead a life of luxury. The thrilling web series is produced by Kaushik Das, co-produced by Dragline Creatives and directed by Pradip Dash. AAO NXT, the Odia OTT platform believes in providing unique content, inspired by real life incidents and situations with a strong underlying message for the benefit of society. Simultaneously it also encourages fresh talents to explore their creative potential.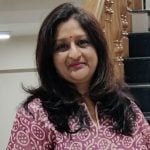 Suneeta Mohanty is a Content Writer with more than 23 years of experience. Her strength is original content with a personal touch. She writes well-researched articles and blogs.